Contacts & Info
Pro Tempo is the Irish distributorship for Multitrax and Aeromix fitness music: original artist, high quality and brilliant value products.
We have been in continuous business since 2001. We have recently converted to all digital products which are cheaper and available for instant use in download format. We no longer sell individual CDs but will still supply them for group or corporate orders.
How to Purchase an MP3 Album:
Select the product, click on 'Buy MP3', register with Multitrax Download and make your payment by credit card or PayPal.You will receive the zipped file by email or through iTunes which you open and then download onto your computer, phone or ipod. Its quick and cheap.
How to Purchase a CD Album:
Please go to www.fitnessmusicshop.com to purchase CD versions of our products.
Contact details for Pro Tempo (fitness music only)
Mobile: 087-6481859
Email: Rznvy Cebgrzcb

Contact details for Fitness Instructor Training (Sheila O'Sullivan)
Mobile: 087-2386453
Email: Rznvy Furvyn 'B Fhyyvina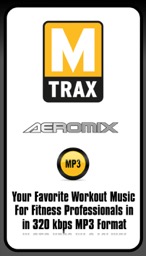 TOP TRENDSFITNESS TRAININGQualified Fitness Instructors Only
Indoor Cycle
-

Cost: € 150

|

FOR A 10% DISCOUNT

In House training for Fitness Clubs available. Flow classes to resume in September 21 -
MORE EVENTS ...